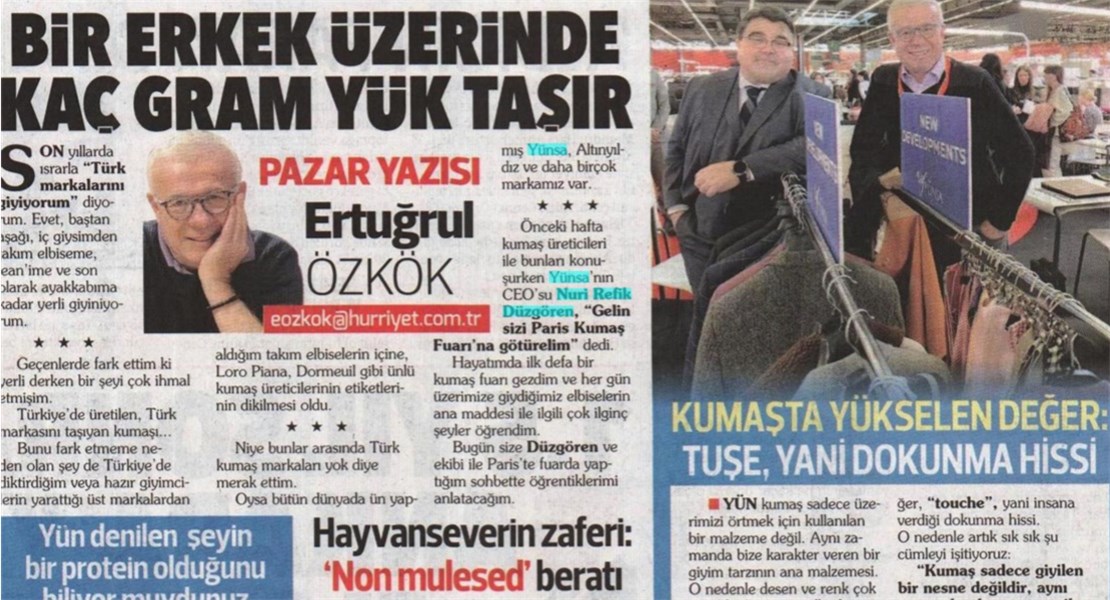 Ertuğrul Özkök: "I wear Turkish brands."
21 February 2019
HOW MANY GRAMS OF LOAD DOES A MAN CARRY ON HIMSELF?
In recent years, I insistently say, "I wear Turkish brands." Yes, I wear domestic clothing from head to foot; from underwear to my suit, to my jeans and ultimately, to my shoes. Recently, I have realised that when I say domestic, I am forgetting something. The fabric produced in Turkey, bearing the Turkish brand. . . The thing that made me realise was that the labels of famous fabric manufacturers such as Loro Piana, Dormeuil have been stitched inside my suits I have had sewn in Turkey or bought from the upper brands created by ready-wear clothing manufacturers. I wondered why there is no Turkish fabric brands among these. However, we have brands that are known throughout the world such as Yünsa? Last week, while speaking about this with fabric manufacturers, Yünsa CEO Nuri Refik Düzgören said; "Let us take you to the Paris Fabric Fair". It was the first time I went to a fabric fair and I have learned many interesting things about the raw material of the clothes we wear every day. Today, I am going to tell you about the things I have learned in the chats I had with Düzgören and his team during the fair in Paris
Did you know the thing called wool is a protein? ¦ FABRIC has two raw materials. One is wool and the other is cotton. Wool is obtained from the furs of animals such as sheep, goat, camel, llama and European rabbit. Like silk and hair fibre, wool is actually a protein. In other words, it is obtained by the combination of chain-formed amino acids containing nitrogen and sulphur.
Good wool is also found between particular parallels such as coffee ¦ optimal conditions for the cultivation of coffee plants are present between 25th parallel north and 30th parallel south. Good wool is obtained from curly sheep and Dağlıç sheep (a kind of fat-tailed sheep). These species are mostly bred between parallels where Australia and New Zealand are located. Of course, the shearing technique of the animal also plays an important role.
The wool obtained from which part of the sheep is not valuable. ¦ The value of the wool obtained from the furs on the belly of the sheep is lower since they are in contact with the ground. The best wool is obtained from the top. Annual wool production of a sheep ranges between 1.5 to 3. 5 kilos.
Animal lovers' victory: 'Non mulesed' certificate
The merino sheep are bred for their wool. However, in the event producers over-shear the animal to obtain more wool, bacteria infects the animal, especially on its tail and eats the animal alive. In order to prevent this from occurring, producer cuts off the animal's tail with a very painful procedure. This is called "mulesing". In the recent years, the animal rights activists have declared war to this practice. Today, the famous textile producers in the world request a "non mulesing" certificate that shows that animals are not subjected to such torture while the wool they have purchased are obtained. While buying textiles, ask whether the manufacturer possesses such certificate.
Rising Value in Fabric: Touché, in other words; Hand Feeling
Wool fabric is not a material used only to cover ourselves. It also is the raw material of a dress style that gives us character. Thus, pattern and colour is very important. However, the rising value regarding fabric, "touché", it refers to the hand feeling it gives. So now, we often hear this sentence: "Fabric is not only an object we wear, but also a contact object that is caressed and embraced. . . "
How much the weight of the suit we wear has decreased? ¦
If you are having a tailor sew a suit with vest, it takes 3.5 meters of fabric. A ready-wear suit we purchase, it is made from 3 meters of fabric. The weight of the suit is Jacket: 850 grams. Trousers: 350 grams. Vest: 300 grams. It means you carry 1.5 kilos of weight. In the past, only a jacket weighted 1.5 kilos. The reduction in the weight is thanks to the lightening of the material used in the recent years. In addition, shoulder pads have been totally removed or became lighter.
What percentage of the fabric used in the world is wool?
Only 3 percent of the fabric used in the world textile industry is made by wool. However, a majority of the upper segment clothing, which is called "premium", is sewn by woollen fabric. In other words, the economy it generates is a lot higher than 3 percent.
DO YOU KNOW HOW MANY TYPES OF FABRIC IS MANUFACTURED IN A YEAR?
I asked YÜNSA CEO Nuri Refik Düzgören: How many types of woollen fabric do you manufacture in your factory? They do not know the exact number. He gathered his experts and they made a simple calculation. For the 2020 season, they are going to manufacture 220 different patterns only for the premium segment. If you consider that these will be manufactured in different colours, it shall mean 2 thousand and 500 different products. Along with other segments, the number of variations to be manufactured only for 2020 season will be around 10 thousand. There are 77 thousand different colours used in the colour archives of Yünsa until now.
The place of Turkish fabric manufacturers in the world market
This year, more than 60 Turkish fabric manufacturers have participated to the fair. Among these, only Yünsa has a production capacity of 12.5 million meters. This year, they will be manufacturing 9.5 million meters of fabric, 80% of these are exported. They export 3 million meters of fabric only to Germany. They will export 900 thousand meters to America and 600 thousand meters of fabric to England. Another success criterion is this. Today, the most prestigious fabric manufacturer in the world is Italy. The price difference between the Italian premium products and the Turkish premium products has decreased around 20 percent.
The freak show of a designer I have written 32 years ago.
In my book titled "Farewell Rebellion" (Elveda Başkaldırı), there is a chapter related to rising "fashion". In that book, I have written about the new rising names together with the fashion brands of the established order such as Cardin, Ungaro, and Dior etc. The designers that caught my eye 32 years ago were Thierry Mugler, Kenzo, Issey Miyake, Azzedine Alaia and Jean Paul Gaultier. . . Last Tuesday, I have watched the "Fashion Freak Show" of Jean Paul Gaultier, which I have much anticipated. The show in Paris' famous hall Foiles Berger was outstanding. In a sense, the show is Gaultier's life story; however, it went beyond it and became a burlesque modern art installation. It was also very interesting that a designer who has dressed people throughout his life to design a 60% naked show.
Among all naked women, all eyes are on a naked man
FASHION Freak Show is a woman show in accordance with Folie Bergere in the first glance. A stage that is time to time crowded with almost fully naked women but there is a Cuban dancer man in the show. . . I am sure that the attention of almost all of both male and female audience is focused on him. While watching, you cannot help thinking: How did god create such a body. . . However, more interestingly, this male dancer performs with women's clothing in almost two-thirds of the show. In the recent years in fashion shows, the border between man and woman is removed and the body aesthetics that in time becomes more of a bisexual appearance has spread to show stage as well.