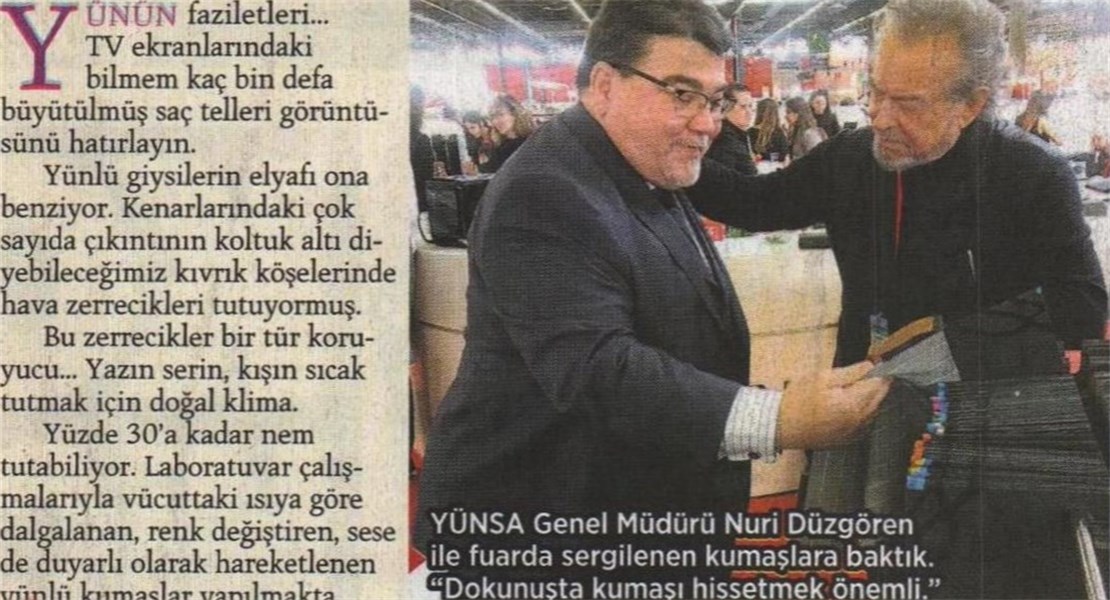 Güneri Civaoğlu: WONDERLAND OF FABRIC
21 February 2019
The virtues of wool. . . Remember the appearance of hairs that have been magnified thousands of times on TV screens. The fibres of woollen clothing look a lot alike them. They hold air particles in curved corners which we may call pits, in the many bulges on their corners. These particles are some kind of protector. . . It is a natural air-conditioner to keep cold in summer and warm in winter. It can hold up to 30 percent moisture. Woollen fabrics, which fluctuate with respect to the heat in the body, change colour and able to act as sensitive to the sound, are made with laboratory studies. If you see the letter "S" on the woollen fabric, know that this can be on a very fine and high quality fabric. The most valuable among them is "SI70. " Fabrics are getting lighter in time. Now, it is the world's choice that a jacket to weight 850 grams and a trouser to weight 350 grams. In other words, the weight of a man's outfit has been decreased around 100-150 percent compared to the past.
We have listened these in "YÜNSA" booth in the Premier Vision Fabric Fair in Paris. Yünsa is the largest worsted fabric exporter in Turkey. It exports 11 million meters to Germany, France, İtaly and United States. Check what else I have learned. Unfortunately, the majority of the wool they process is obtained from Australian merino sheep. I said "Unfortunately" because the homeland of the merino sheep is our country. If you ever knew, what specifications are needed for export? For example. . . A virus infects below the tails of the merino sheep. Thus, they cut the tail off. If you are going to export woollen fabric obtained from merino sheep to the world market, the pre-requisite is that it is "non mulesed". In other words, the animal must suffer by having its tail cut off. Additionally. . . Many "sustainability conditions" are required such as "environmental awareness, payment of taxes, anti-child labour, carbon emissions". A non-governmental organisation based in Holland provides a certificate for this matter. No certificate, then no export.
The pure wool fabric outfit is still recognised in the world. Along with that, the "slim fit cut" clothes are being trendy and men, especially in trousers, prefer the lycra fabrics. Yünsa is a manufacturer with 10 thousand versions and with an archive of 77 thousand colours. It has now focused on the export of finished outfits. It has its own tailors. However, according to the project they are about carry into practice, the "Uber of Yünsa Tailors" is about to be initiated. The "fabric sales and after" program consists of training the tailors and scoring them as per the liking of the customers. Touché, in other words, the feeling when you touch is important. Only for this purpose, there is an Italian "touché expert". In addition, it has offices and sales representatives in Germany, England, France, Italy and some other countries.
Turkish factories were not allowed to this fair until recently. Thankfully, this obstacle has been overrun and Turkish companies are there every year.
TWO FACES OF PARIS
For a while, there are two Parises. The first one is, in the weekdays the beautiful Paris, as we know. The other is. . . The Paris that blackens with the boring protests of "Yellow Jackets". . . I have spent three days of the week in Paris. We walked a lot with Ertuğrul Özkök and had some delightful time with friends. Hotel Coste was our first stop to have a tasteful meal. It was crowded with Turks due to the fabric fair. The next night after the show at Folies Bergöre, we were invited to dinner at the Buddha Bar. It was not as sparkling as it used to be, but its kitchen has never lost it. Again, scenes of people like a film set were eye-catching. It is again a classic at lunch. . . In St. Germaine, Cafe deux Magots. . . It is told that Ernest Hemingway started writing some of his novels there. Luckily, there was a sunny weather. We have walked so much. We have exceeded the 10 thousand steps limit. We made Dr. Osman Müftüoğlu's ears ring by speaking about him.