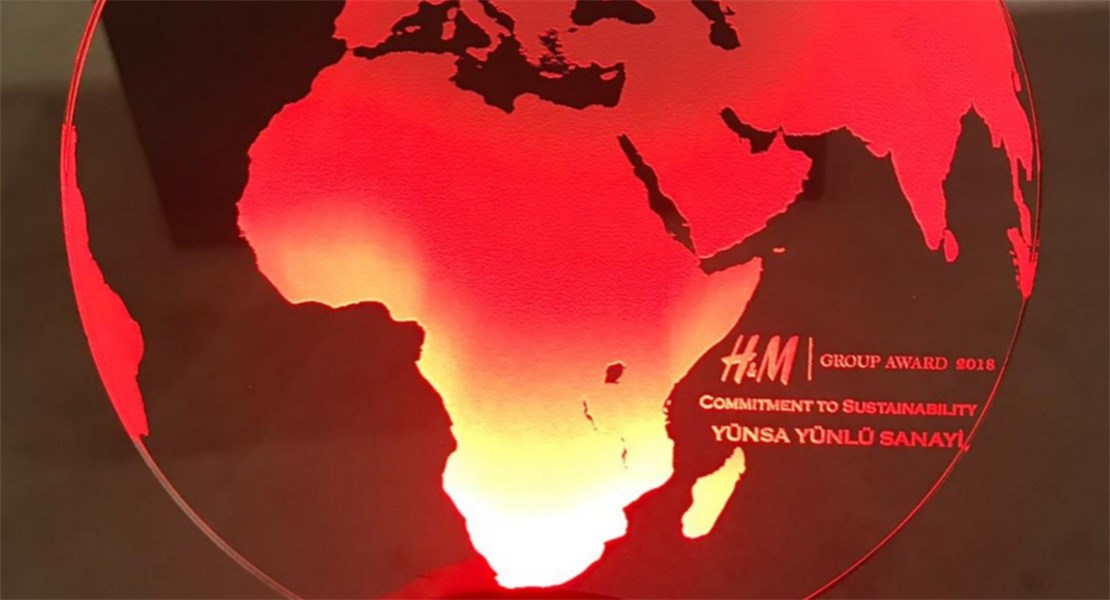 YÜNSA Won H&M's Sustainability Commitment Award
25 March 2019
Leading the sector with its environment-friendly, clean production-oriented and sustainable business model, Yünsa continues to support sustainability with its projects aiming to use standards and natural resources efficiently.
Yünsa added another one to its achievements in the field of sustainability and has been granted with the Award for Sustainability Commitment at the 2019 Supplier Summit held on 15th of March and organized by the clothing giant H&M which Yünsa is cooperating with since 2007.
Yünsa General Manager Nuri Düzgören emphasized that Yünsa applies sustainability in all business processes as the company's basic principle: "In 2018, when the sector had faced a contraction, we, at Yünsa, resolutely continued with our investments in sustainability. As H&M's RWS (Responsible Wool Standard) certified supplier, this award indicates the success of the good works we have performed.
Yünsa has a Responsible Wool Standard (RWS) certificate, which observes animal welfare and good management of the land, which the animals graze on, starting from the farms where sheep are being kept until it reaches the end-user. With Yünsa's Global Recycled Standard (GRS) and Recycled Claim Standard (RCS) certificates, the recycled materials used in the final products are being monitored and verified throughout the supply chain.
Yünsa, H&M's Gold Supplier
Yünsa was awarded the Gold Supplier certificate by H&M last year. Regarding sustainability among the basic company principles, implementing it in all business processes, and performing outstandingly in servicing, Yünsa is a strategic partner thanks to the Gold Certificate.
About Yünsa:
Established in 1973, Yünsa is one of the top five global manufacturers for high-segment wool fabric production and the largest manufacturer in Europe. While initially producing wool fabric only for men, in 1998 the company added women's clothing to its portfolio. Aside from an annual capacity of 12.5 million meters of fabric weaving, Yünsa also has combed yarn per year capacity of 4,500 tons.
Being a fabric supplier for the world's leading brands and exporting to more than fifty countries, Yünsa has offices in three countries and agencies in 10 countries. In addition, the company has design offices in Biella, Italy and in Çerkezköy, Turkey. Sabancı Holding owns 57.88% of Yünsa shares, which went public in 1990; the remaining shares are being publicly traded in Istanbul stock exchange.